The Mevo app can go live to Facebook in various ways, you can go live to a personal profile, a page, and a group using the built-in Facebook destination. You can also go live to the same destinations using RTMP. You can click the tabs below for the destination you'd like to learn more about.
Continuous streaming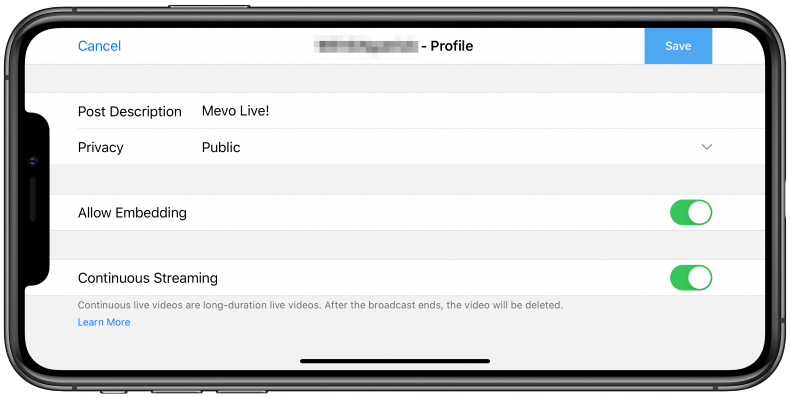 For events longer than 8 hours, you can enable "Continuous streaming" in the Mevo app. This allows longer streams but does not allow you to save the production once it is complete.
Once your camera is connected to the Mevo app, you should notice a red button in the bottom left corner of the picture.
To log in and stream to Facebook Live, tap this red button, then tap the Facebook Live icon.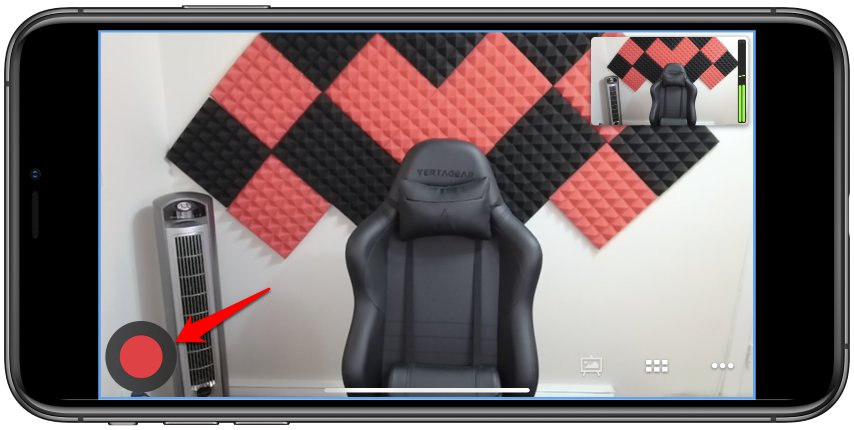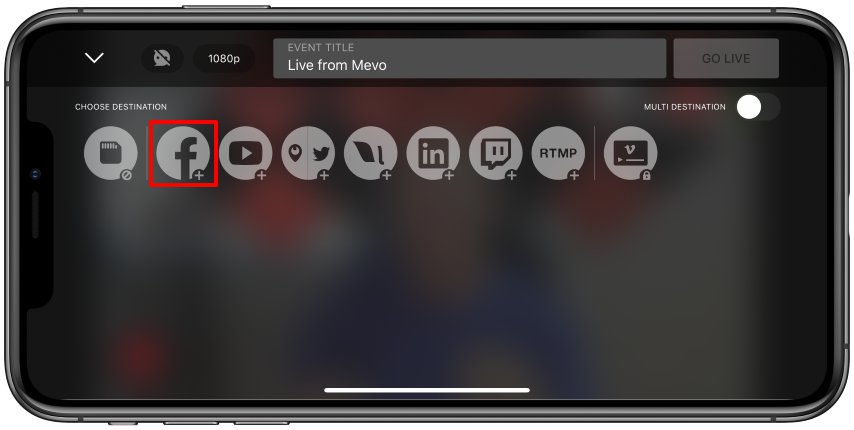 Facebook will open in a browser window and request that you log in and authorize permissions for Vimeo. You should allow all permissions in order for streaming to Facebook to work properly.
If you intend to stream to an audience beyond your Facebook friends (e.g. a Page or a Group), you should set your default audience as Public. After doing so, you can change your desired audience on a case-by-case basis when you go live (see below).
Once you allow Facebook permissions, the following screen will appear. Choose your Facebook destination along the bottom of the screen; either your Profile, Scheduled Live posts, Pages, and Groups.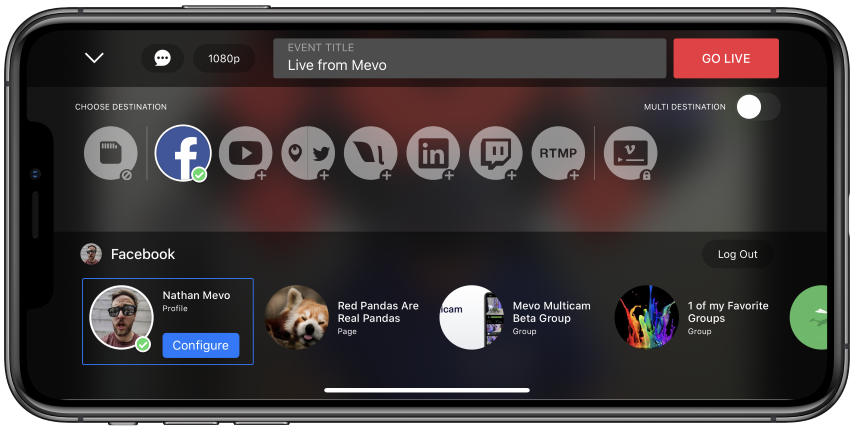 After selecting a destination, a configure button will appear next to its icon; tap this to configure settings for that streaming destination.
Here is where you can add a title for the stream, add a location, choose whether to allow embedding from Facebook and enable Continuous Streaming for longer events. Other settings available will vary depending on which type of destination you selecting (Profile, Page, or Group). For example, Privacy settings are only available when streaming to a Profile; Video Tags and Audience Targeting are only available when streaming to a Page.
When you have finished configuring your stream's settings, tap
Save
to continue.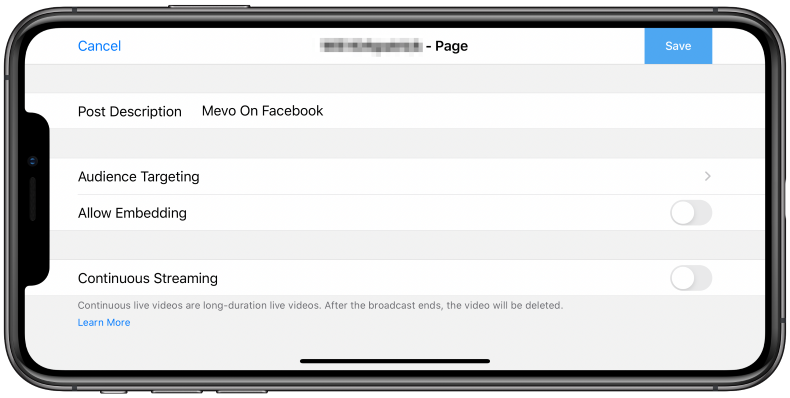 From here, you can:
Toggle the chat display on and off.
Choose your streaming quality.
Start your stream by tapping Go Live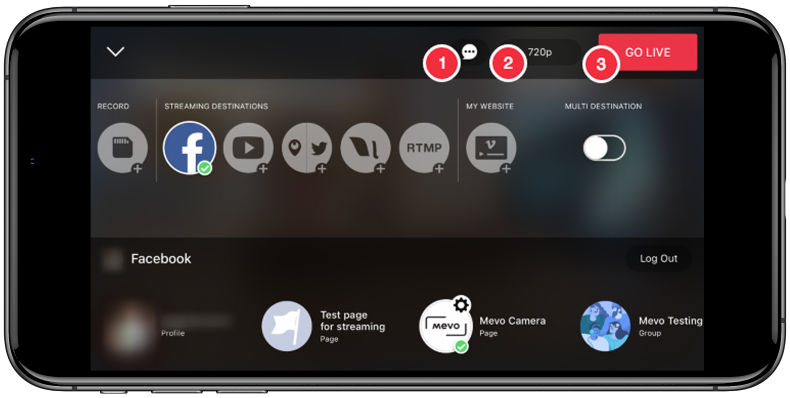 When you go live, the LED ring on the camera will spin red briefly. After this, your stream will begin.
Tap the icon on the bottom left corner to see more information about your stream, including viewer count, a timer, battery percentage, and the outgoing bitrate.
Tap the information bar again to collapse it.
If you tap a specific statistic, such as viewer count or bitrate, that statistic will still appear next to the red dot when you collapse the information bar. In the below example, the timer is selected.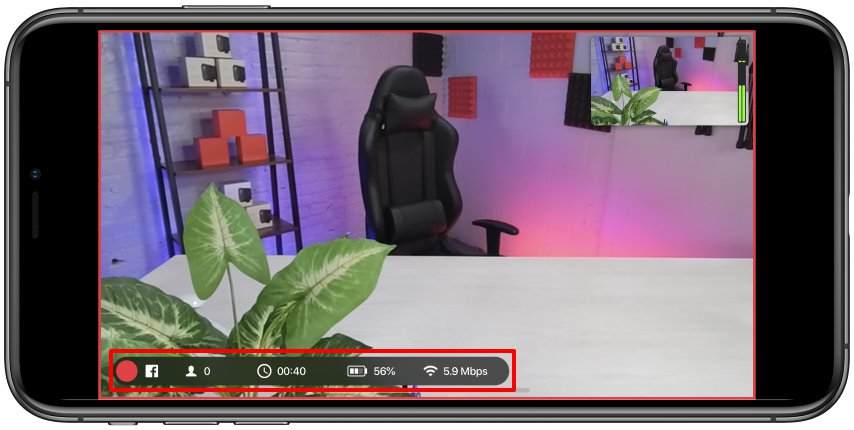 To end the stream, tap the red dot, and then slide the new, larger red dot to the right.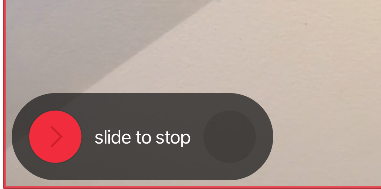 You can choose to keep your stream in your Facebook feed or not, save on your microSD card (highly recommended), and upload the recording to Vimeo. After making your selection, tap
Done
.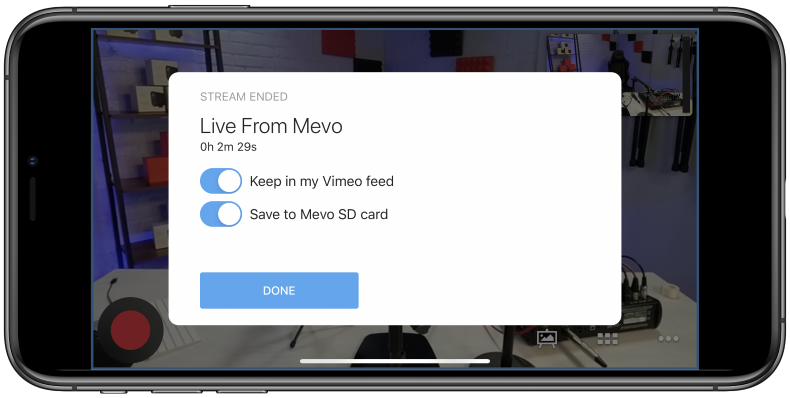 If you wish to stream to a Page, you must be an Administrator or Editor. Moderators and other roles cannot go live to Pages or Groups.
Once you are logged in to your account, tap the red button to start a stream and select Facebook. Your profile will be listed first, followed by Pages.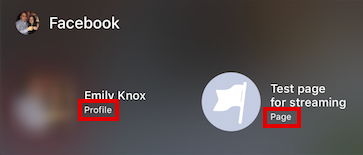 Tap the desired destination to select it.
Please note that streams to Pages will always be Public, regardless of the audience setting selected in the app.
In order to go live to a Facebook Group, you must be an Admin and need to install the Mevo Facebook App to your Group. Once you have configured these settings, you can go live to your Facebook Group from the Mevo app.
First, make sure you are an
Admin
of your Group. Only Admins can adjust Group settings and go live to Groups. Also, be sure you have updated the Mevo camera and app to version 1.9 or later.
On your Group's Discussion page, select settings.
Scroll down to the
Apps
section and select
Add Apps
.
Find the
"Mevo Camera"
app in the list and select it. Once you've added the app to your Group, be sure to scroll to the bottom of the settings screen and click
Save.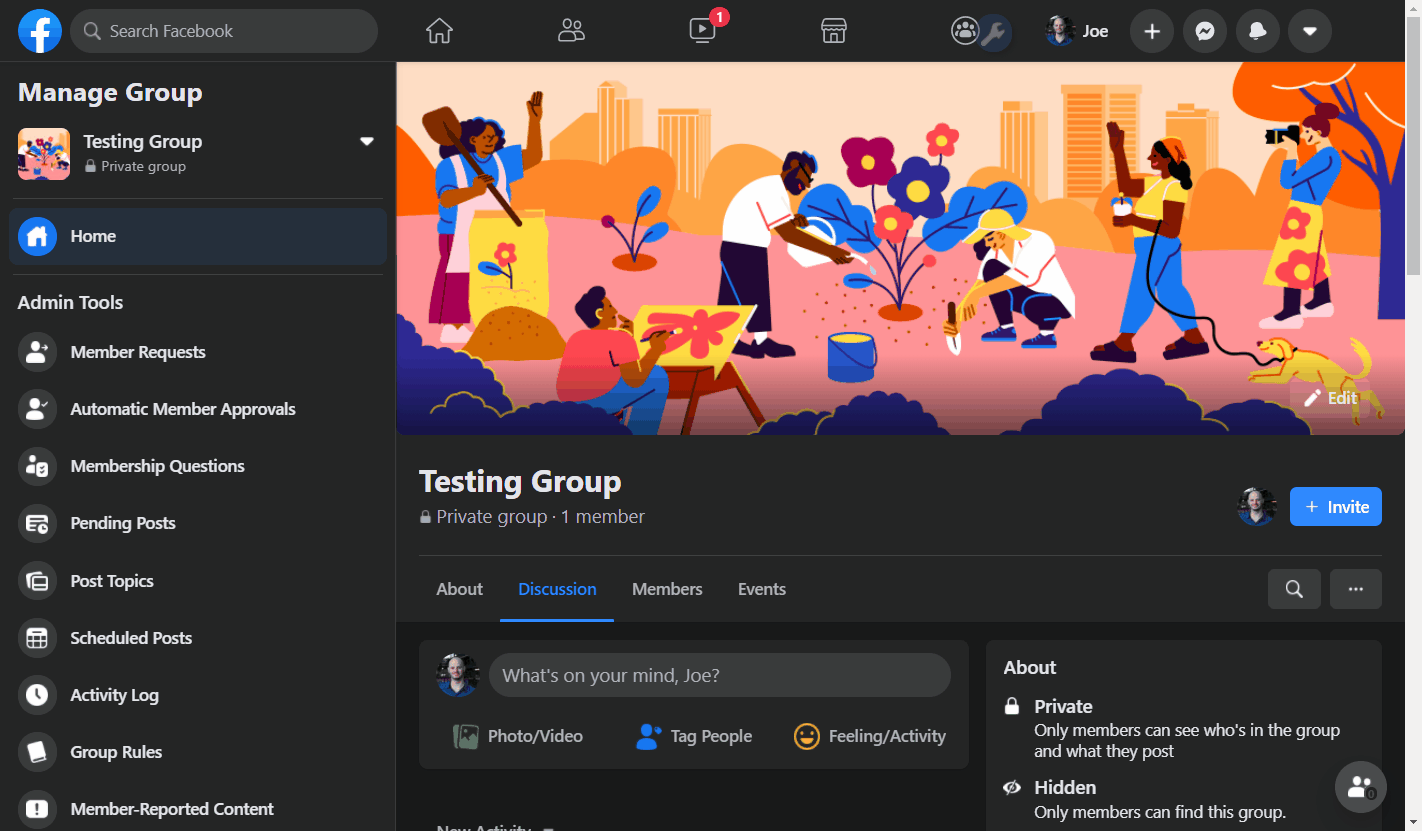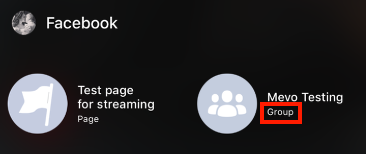 Please note that streams to Groups will always be public to members of your Group, regardless of the audience setting selected in the app.
Go to https://www.facebook.com/live/producer in a browser, then click Create Live Stream.
On the left side, choose where you want your stream to go (e.g. Your Timeline, a Group), your audience, and any title or caption you'd like to go with it along with a description
In the middle of your screen, you will see your Server URL and Stream Key.
Configure any optional settings, then input the Server URL and Stream Key into a new RTMP destination in the Mevo app.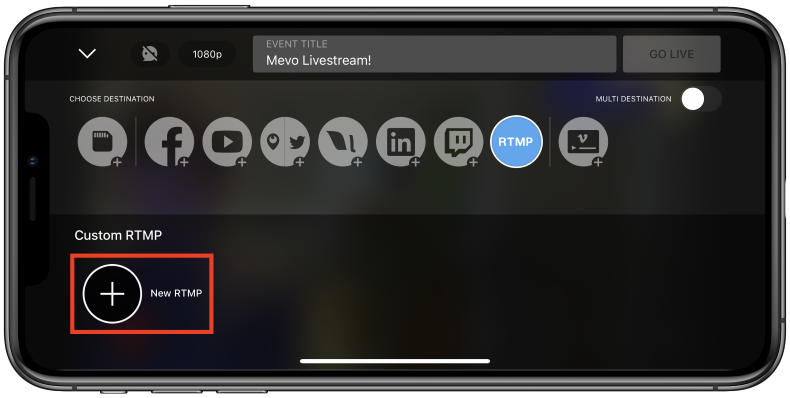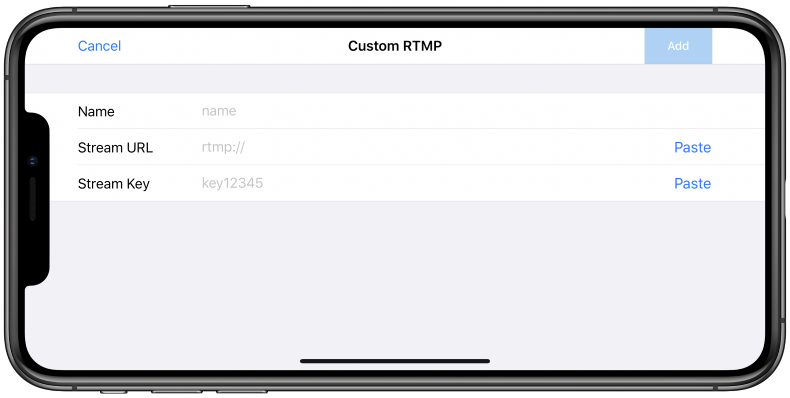 Tap Go Live in the upper right corner of the app.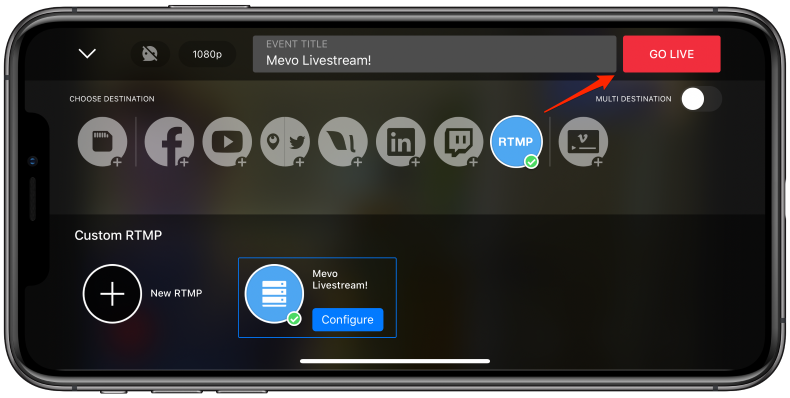 You will see a preview of your stream in Facebook, at which point you can then click Go Live in the bottom right corner of the Create Live page to post the live video to Facebook.
Currently unavailable - You must use RTMP to accomplish this.
This feature is currently being worked on and is unavailable at this time. We apologize for any inconvenience! To go live to a scheduled livestream, you must use RTMP.
Destination unsupported
This destination is not supported within the Mevo app.
Troubleshooting Steps
I'm unable to update my Facebook permissions
If you are experiencing a permissions loop with Facebook, please update your Mevo app.
An update was released to address this issue 9/13/19.
App Versions: 1.14.1.1 (iOS) 1.14.3 (Android)
If you attempt to go live to Facebook and see the following message, there are a few possible causes to this.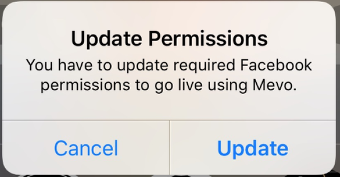 First, tap Update; since becoming a part of Vimeo, the Mevo app now uses the Vimeo integration in Facebook rather than the previously-used Mevo integration, which may be prompting this update. Follow the on-screen steps, then try going live again.
If you continue to see this message, it could be due to the following:
You are logged into a different Facebook account in Safari. If you are using an iOS device and see this message, navigate away from the app, launch Safari and navigate to Facebook.com. Make sure you are logged into the proper account to which you are trying to stream.
You are using an outdated version of the Mevo app. Version 1.8.2 and earlier will display this error due to referencing an old Facebook API. Be sure to check the App Store or Google Play and update the app as prompted.
If you continue to see this error message, please contact us.
I don't see the option to add the Camera on my Facebook group.
Ensure that you are trying to follow these steps on a laptop or desktop computer. You won't be able to follow the Facebook group guide on a mobile device. If you still don't see it, ensure you have access to the group as an admin.
Adjust Facebook Audience Settings
When you log into Facebook for the first time with your Mevo app, you are prompted to authorize the Camera app for Facebook and grant certain permissions.
One of these permissions is your default audience. If you had selected Friends in the initial setup, then you are not able to stream to a public audience, including Pages and Groups.
To resolve this, you need to change your default audience to Public. Log into Facebook on a desktop browser. Open the drop-down menu in the upper right corner, then select Settings.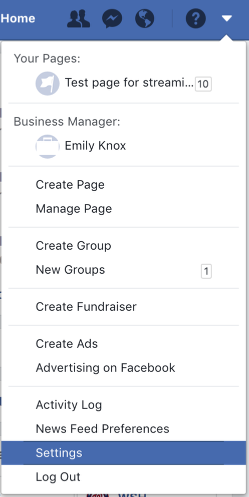 In the left side panel, select Business Integrations.

The Mevo Camera application is located here. Select View and edit.

Scroll down in the modal that pops up. You will see a setting call Business integrations visibility and post audience. Open the drop-down menu and select Public, then save your settings.

Now you have more flexibility with choosing your Facebook audience in the Mevo App. Selecting Public will allow a public audience to see your live video. If you are going to stream to your Profile, you can still choose to have a restricted audience (e.g. Friends, Only Me.) from within the Mevo app.
Still having an issue?
Please open a support ticket here so a Customer Experience Agent can address this for you.
Open Ticket