Mevo Start Ethernet Power Adapter
Technical Specs for Mevo Start POE Adapter
IEEE 802.3-2012 compliant, PD Class 0
802.3af (PoE) Type 1 PD: 37V to 57V operating voltage
Maximum input power: 13W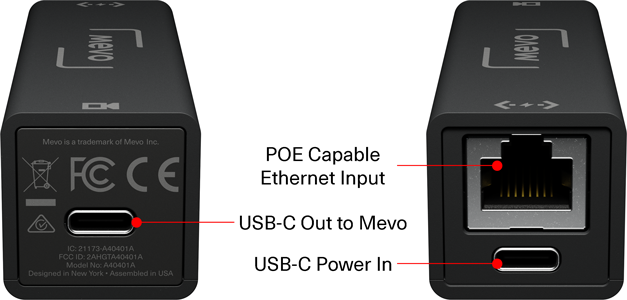 How it works
To use it as a standard Ethernet adapter you will need to run both power and Ethernet to the input side of the adapter, and run the output directly to the Mevo Start.
To use it as a POE adapter you only need to run a POE enabled Ethernet line into the input side, then the output directly to the Mevo Start. No power input is required in this configuration as the POE Ethernet line provides the required power.
To confirm your configuration is working, you can check the in app status in your Mevo app.
The Mevo Power over Ethernet adapter is the only power over Ethernet adapter supported by Mevo. If you don't need the POE functionality, we've gone through and tested and confirm the following adapters work to provide the ability to run Ethernet to your Mevo Start.
Ethernet Only Adapters (Powered by Mevo Start USB-C)
These adapters require you to turn on "Power External Devices" and use Mevo Start power to use. You can read more about this setting here.
**HDMI ports in adapters will NOT function. The Mevo does not support a video out/in signal.
Nekteck USB C to RJ45 Gigabit Ethernet Port LAN Network
Plugable USB C Ethernet Adapter
Belkin USB-IF Certified USB Type C
AmazonBasics USB 3.1 Type-C to 3 Port USB Hub
FreeTree USB C to Ethernet Adapter
Anbear USB-C to Ethernet Adapter
Syntech USB C to Ethernet Adapter
UtechSmart Type C Thunderbolt 3 to RJ45
Ethernet Adapter with Power Delivery (Self powered)
This is different than "POE", this style of adapter requires both a power and Ethernet cable to deliver data and power. The Mevo POE adapter only requires an Ethernet cable to deliver both data and power. See directions below to use these.
Having issues with your self powered adapter?
For units with Power delivery you will need to follow a specific order of steps to have the Mevo detect both the power and the ethernet.
1. Disconnect the adapter from the Mevo Start
2. Disable"Power External Devices" - You can read more about this setting here.
3. Have both Ethernet and power already plugged into your adapter.
4. Plug the adapter into the Mevo Start.
5. Confirm Ethernet and power is detected.