Content creators can choose YouTube as a streaming destination for their events, either to a YouTube event or via YouTube's Stream Now option. Users can also utilize RTMP to stream to their YouTube destination. You can use the walkthroughs below to do so.
YouTube Subscriber & Viewership Policies
YouTube allows mobile streaming with the Mevo at 50 subscribers, however, they limit your viewership. You can only have as many viewers as your subscriber count is + 25. Find examples below.
If you have 50 subscribers, you can then have 50 + 25 = 75 viewers
If you have 700 subscribers, you can then have 700 + 25 = 725 viewers.
If you have less than 1,000 subscribers and need more viewers for your content than your subscriber count allows then you should use the RTMP option below to go beyond your viewership limit.
If you have hit 1,000 subscribers this limit is then removed but the process of validation may take a few weeks for YouTube to process as they confirm legitimacy of your subscribers.
Auto Start/Auto Stop
If your stream is not automatically starting and stopping based on your Mevo app going live then you need to enable auto-start and auto-stop in YouTube Studio.
Going Live to YouTube using RTMP
To stream to YouTube using RTMP you can do so by first logging into your YouTube profile.

Press your profile image and go to "YouTube Studio"

This link (https://studio.youtube.com/) will also take you there for your convenience.


Once the YouTube Studio page loads you will see on the top right of your screen a "Go Live" icon. Press this icon.

Mobile Users

If do you do not see these options, ensure you run YouTube.com in a browser that allows you to view the desktop version of the website. Select the browser you are using below for directions to do this.

Safari

Google Chrome

Mozilla Firefox

At the top of the next screen, you will see 3 options, you want to select "Stream", and you will see options to put in your stream details. Press "Create Stream".

First Time YouTube Studio Users

If this is your first time using YouTube Studio, you may be greeted with "Welcome to the new YouTube Live Control Room" pop up. We've included those below. If you aren't greeted with this, you can continue with step 5.

Press here to see the steps for new users.

First Press "Start" for either option. The result is the same.

Then press "Go" for Streaming SoftwareContinue with step 5.

If you've never created an event this way, you will need to select "Schedule Stream"
Insert all the content data and press "Create Stream"
Your event is now created, press the thumbnail or the title of the event to open your settings.
You will then see this window. These are the details you need to insert in your Mevo app. Take the stream key and url information down. Best practice is to use copy and paste to avoid typos.
You can also choose whether it will auto-start or stop. If disabled you will have to manually start and stop the stream in YouTube Studio. If it's enabled YouTube will start and stop your stream based on if it detects your feed from your camera so you are live as soon as the feed is received.

Auto-Stop

If your internet upload is not great and your upload goes down for a period of time YouTube might end your production prematurely. Use at your own risk.

Inside your Mevo app, press the red button in the lower-left part of your screen.

Select the "RTMP" icon listed, then press "New RTMP".

Fill out your details, the name can be anything you want. We recommend something easy and unique to distinguish from other sources you may add. Paste in your stream URL as well as your stream key then press "Save".

RTMP Name

This is simply a name so you can identify what RTMP profile for future use. Your platform handles the actual stream title, as well as stream description.

You will now see the source you added, select it and a green checkmark will appear, then press "Go Live".

You are now live on your YouTube channel.

Auto-Start

If you did not enable auto-start you will need to manually publish your stream in YouTube Studio by pessing Go Live.
Going Live Using the Built-In YouTube function
Effective 12/01/2020
YouTube will enforce the 1000 subscriber requirement for users using the built-in YouTube option in the Mevo app, you can read about this requirement here. If you do not meet this requirement you can still go live to YouTube via RTMP. To learn how to do that, press the RTMP tab above.
In the live edit view, tap the red button in the lower-left corner.
All of your streaming and recording options will populate. Tap the
YouTube
icon.
You will be prompted to log in via Google. Continue to log in to your account and authorize the Mevo app.
Less than 1000 subscriber limits!
If you have less than 1000 subscribers but greater than 50 subscribers you will be prompted with this warning.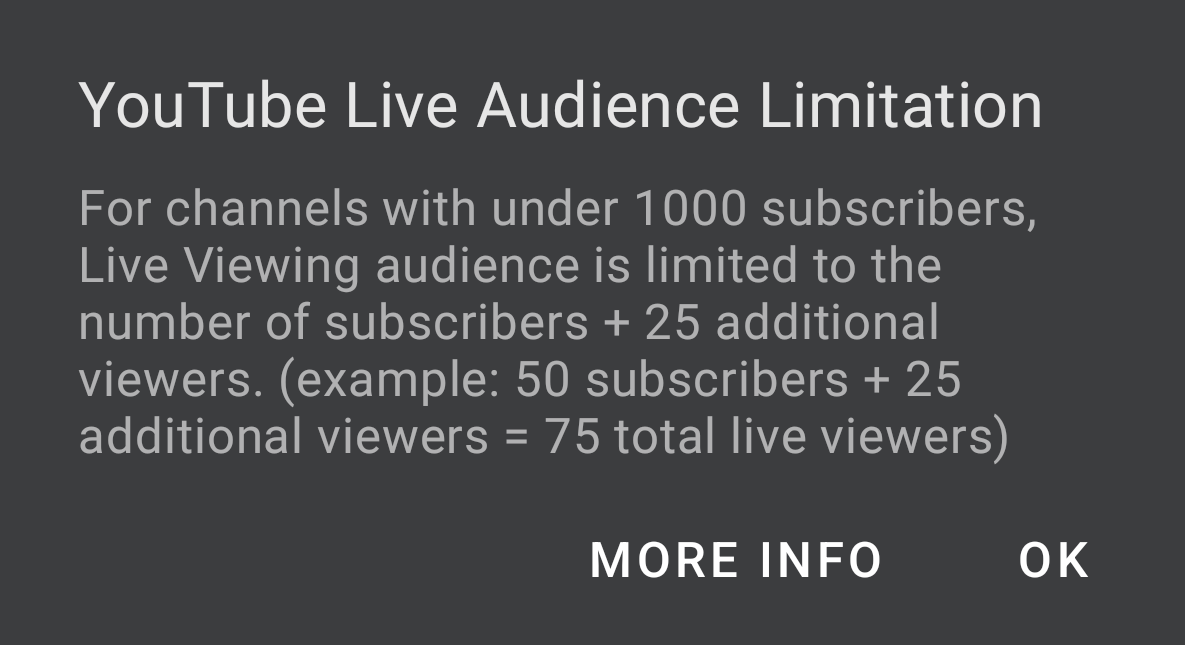 The screen shown below will open. On the bottom, you can either create a new event on your YouTube channel directly from the Mevo app, select Stream Now to stream directly to your channel page rather than a pre-configured event page on your YouTube account, or select a pre-existing event on YouTube; swipe left along the bottom of the screen to see more events.
When you select your streaming destination, a small gearwheel will appear next to the icon; tapping this will allow you to configure additional settings for your stream (note: If you select
New Event
, this screen will open automatically).
From here, you can give your stream a title and choose your privacy setting (Public, Unlisted, and Private). If this is a new event, you can also set the start date and time. Tap Save when you are done to continue.
Choose whether or not to display chat messages in the Mevo app.
Choose your streaming quality (up to 1080p).
Tap Go Live to start streaming.
If you want to create an event on YouTube.com, see the
Events
section in
this article
for instructions; be sure to select 'Custom' as your event type and
not
'Quick.'
If you see a 'Forbidden' error message when attempting to stream to YouTube, make sure you have
enabled live streaming
on your YouTube account.
The camera will start sending the stream to YouTube. If you selected
Stream Now
, your channel is currently live.
If you selected an event, you will instead see a countdown to the start time you previously configured.
After a moment, a blue
Publish
button will appear. When you are ready to push your stream live to your channel, tap
Publish
.
Please note that manually publishing your stream to your YouTube event is required even if the countdown ends. The stream will not publish at the set time automatically.
The blue button will indicate the stream is loading. After a few seconds, the app will indicate that your stream has been published in the lower-left corner.
Tap the information bar in the lower-left corner to reveal more information about your stream, including viewer count, battery levels, bitrate, timer, and audio source
To end the stream, tap the red dot, then slide the larger red dot that appears to the right.
A card will appear indicating your stream has ended. If you streamed to a scheduled event and no longer intend to stream to this event, toggle on
Complete Live Event on Youtube
; do not select this if you plan to go live to the same event again. This option does not appear if you selected
Stream Now
as to your streaming destination.
You can also choose whether or not to save a recording of your stream to your microSD card and upload the recording to Vimeo.
See
YouTube's documentation
regarding saving archives of your streams on YouTube.
Troubleshooting Steps
I don't see "Stream Now" as an option or my event is "Unsupported"
As of September 2020, YouTube has removed the "Stream Now" option of YouTube Live. You can still stream live using events.
Still having an issue?
Please open a support ticket here so a Customer Experience Agent can address this for you.
Open Ticket