When your camera is not connected to your phone, you may check its battery level by the green light on the back-right of the camera, just above the battery icon.
If the battery is above 25% the indicator will be green.
If the battery is below 25% the indicator will be red.
The light will start blinking red when it gets to less than 5% battery left, to warn you to plug your camera into wall power as soon as possible.
When you connect the camera to power, the battery LED will blink twice to indicate it is charging. It will change color as it charges to reflect its battery level as described above.
Check Battery Levels using Mevo App
Once your camera is connected to your phone, you may also check your battery's charge level through the app. A lightning icon will appear indicating it is charging.
From the live edit view, tap the Options icon (•••) then the gearwheel icon. The battery level is displayed in the top information panel.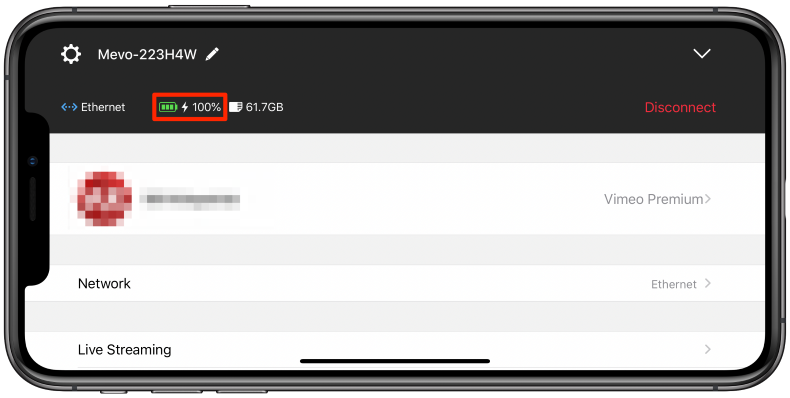 How Long Does The Battery Last?
Our team has done extensive testing of the Mevo cameras battery life, which varies slightly depending on how you use your camera. Broadly speaking, the camera by itself can stream or record for about one hour. If you add the Mevo Boost to your setup, your camera can record or stream for an average of 9.5 hours. Outlined below are detailed results for each use-case we tested.
| Resolution | Mevo Plus | Mevo Plus/1G + Boost |
| --- | --- | --- |
| 1080p | 1 hour | 9 hours |
| 720p | 1.2 hour | 10 hours |
| Resolution | Mevo Plus | Mevo Plus/1G + Boost |
| --- | --- | --- |
| 1080p | 1 hour | 1.2 hours |
| 720p | 1.2 hour | 10 hours |
| Resolution | Mevo Plus | Mevo Plus/1G + Boost |
| --- | --- | --- |
| 1080p | 1 hour | 1.2 hours |
| 720p | 1.2 hour | 10 hours |
| Resolution | Mevo Plus | Mevo Plus/1G + Boost |
| --- | --- | --- |
| 4K | 50 minutes | TBD |
| 1080p | 1.2 hours | 10 hours |
| 720p | 1.2 hours | 10 hours |
| Resolution | Mevo Plus | Mevo Plus/1G + Boost |
| --- | --- | --- |
| 4K | 1 hour | TBD |
| 1080p | 1.2 hours | 10.5 hours |
| 720p | 1.2 hours | 10.5 hours |
| Resolution | Mevo Plus | Mevo Plus/1G + Boost |
| --- | --- | --- |
| 1080p | 1.2 hours | 9.5 hours |
| 720p | 1.2 hours | 10.5 hours |
| Mevo Plus | Mevo Plus/1G + Boost |
| --- | --- |
| 1.2 hours | 10.75 hours |