With the Mevo app and a Vimeo Live account, you can stream your event directly to a custom-designed embedded player on your website.
Requirements
You need a Vimeo Premium plan in order to go live to Vimeo. Learn more here.
Connect to the camera and tap the red button in the bottom left corner. Towards the right side, you will see an option for My Website with the Vimeo icon; tap this to select Vimeo.

After authorizing access to Vimeo, you can configure your stream. Create a new event or select a scheduled event from the bottom of the window. If you are not seeing your Vimeo event, you may need to create a new one following these steps.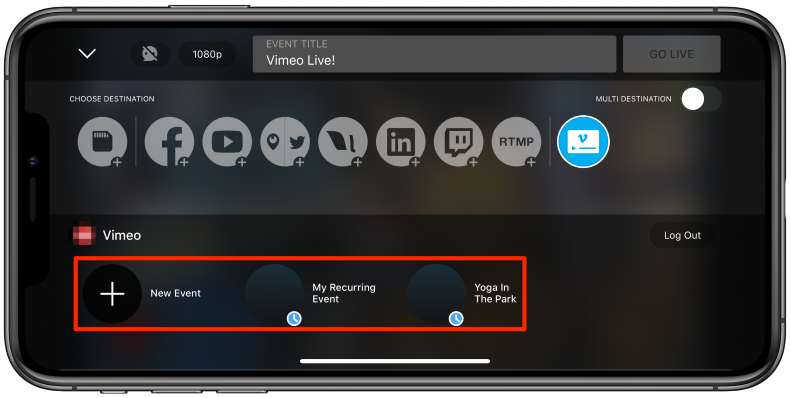 When you select your event, tap it again to see the option to give a title to your stream and choose your desired audience setting. Tap Save to finish.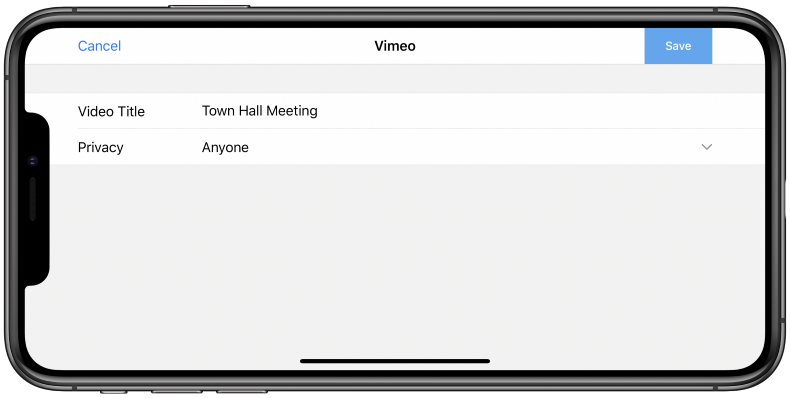 From here you can choose your streaming quality in the upper right corner (up to 1080p). Then tap Go Live to start streaming to your selected event.

You can also log out of Vimeo from this screen by tapping Log Out in the lower right corner.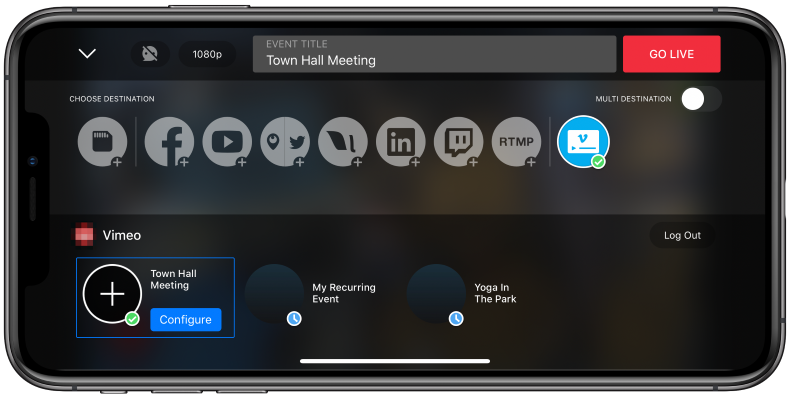 Your stream will be listed with your videos on your Vimeo account; navigate to Manage Videos > My Videos to find your live video. From there you can get your video's embed code and customize the embed as needed.
When you are live, tap the timer displayed to the right of the red dot to temporarily expand the display; this will show your bitrate, timer, and battery level. If you prefer to see one of these over the other, tap one to choose it.
To end your stream, tap the small red dot, then slide the larger red dot to the right.
By default, "Keep in my Vimeo feed" will be toggled on; this will save the VOD to your Vimeo account. If you do not wish to save the VOD to your account, you may toggle this switch off.
If you have a microSD card inside your camera, "Save to Mevo SD card" will be toggled on by default indicating that a recording will save to your card; this is strongly recommended. If you do not wish to keep a recording of your stream to your microSD card, you may toggle this off.
When you have selected your save options, tap Done to return to the live edit view.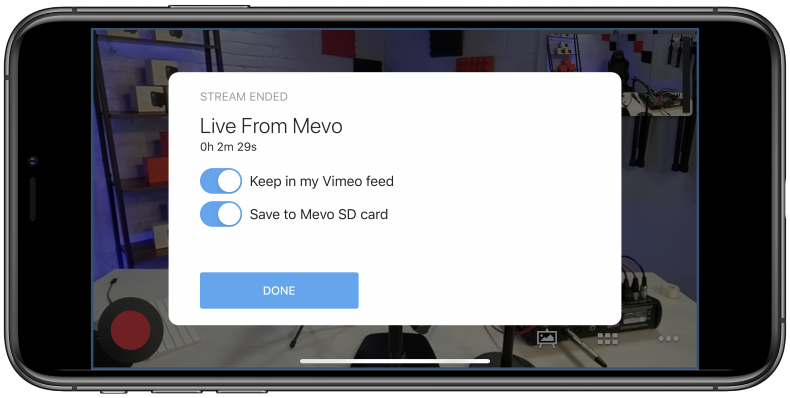 Troubleshooting Steps
Still having an issue?
Please open a support ticket here so a Customer Experience Agent can address this for you.
Open Ticket