NDI, which stands for Network Device Interface, is a technology developed by NewTek that enables high-quality, low-latency video and audio transmission over standard networks. This allows you to send your Mevo Multicam program out (main feed that viewers see) to various other types of audio and video destinations (i.e. Streamlabs Desktop, OBS, VMix, Livestream Studio, etc.) via a standard local network both wired and wirelessly.
Mevo Inputs & Outputs Requirements
Active Mevo Pro subscription.
Multicam 2.2 or newer (released: 7/18/2023)
To output your Mevo Multicam Program out to another destination within your local network, you can follow these steps below:
Press "Out" on your Mevo Multicam app.
From there, you will find NDI Output, below the Mevo Pro section.
Tap NDI Resolution, and select the settings you'd like to output from the Multicam app via NDI.
Toggle NDI Output
Once you toggle NDI Output on, you won't be able to adjust the NDI Resolution so ensure you do that first. You can also enable HEVC (H265) which will compress your video without losing noticeable quality. This will free up some space on your local network to use more sources. **HIGHLY RECOMMENDED**
Once you've setup your NDI Output and toggled it on, you can add it to the destination of your choice. For this example, we show adding it via Streamlabs Desktop, which as a Mevo Pro user, you get all of the premium features Streamlabs has to offer.
Open Streamlabs Desktop
Next to "Sources" press the ( + ) Button
In the "Add Sources" window that pops up, find and select the "NDI Source" option.
Press "Add Source" in the bottom right.
Name your source, then press "Add Source" again.
Under "Source Name", find the source for your Mevo Multicam NDI Output.
You can change this name on the "Out" page in the Mevo Multicam app under "Output Name and Password"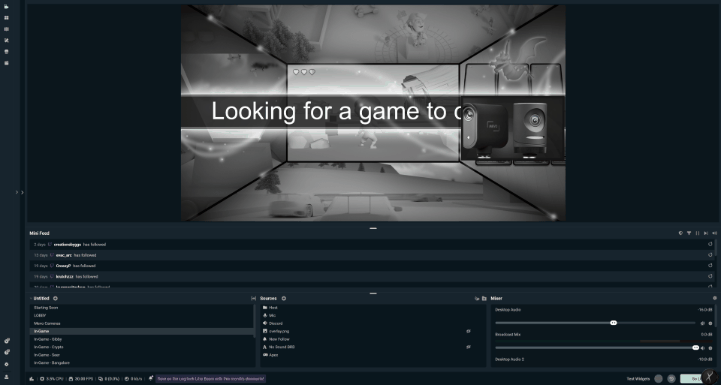 Troubleshooting Steps
Still having an issue?
Please open a support ticket here so a Mevo Customer Experience Agent can address this for you.
Open Ticket