NDI, which stands for Network Device Interface, is a technology developed by NewTek that enables high-quality, low-latency video and audio transmission over standard networks. This allows you to bring in various types of audio and video sources (i.e. presentations, games, videos, etc.) via a standard local network both wired and wirelessly.
Mevo Inputs & Outputs Requirements
Adding an NDI source as an input
To add a source, open the Mevo Multicam app and press the ( + ) add sources button.
Below the "Mevo Pro" section you will find "NDI Inputs", tap it.
Now that you've opened NDI Inputs, you can select any NDI sources that have been found on your network. Examples seen here are a computer sending a video game feed, a presentation, and a video all playing from a computer on the local network and being output via NDI HX.
Recommended Source Settings
When setting up your NDI | HX source from your originating device, we recommend you set the resolution and framerate no higher than 1080p 30fps and 8-10 Mbps. Remember, your mobile device is the decoder/encoder for your production. Too high of a setting may cause your device and therefor your production to have issues.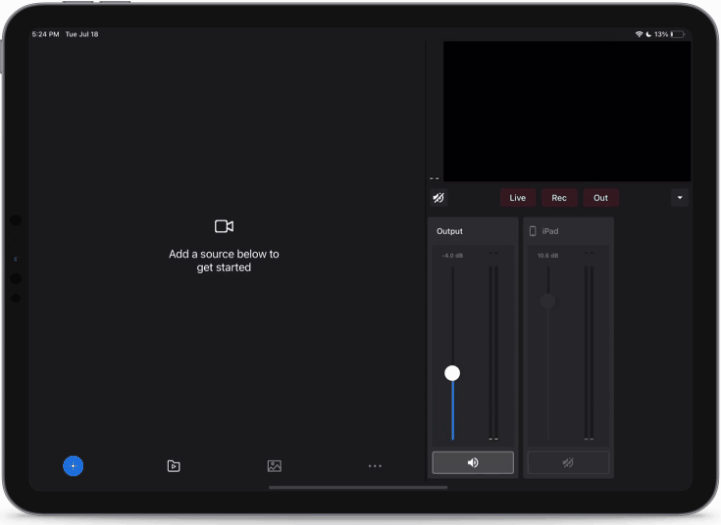 NDI Input Settings
Tap the ellipsis (•••) on your NDI Source preview.
Press "NDI Settings"
If you press the ellipsis of your NDI source and press "NDI Settings", you will have access to "Low Bandwidth Mode" and be able to change your framing between "Fill" and "Fit".
Low Bandwidth Mode: Designed to optimize network usage when transmitting NDI streams over limited bandwidth networks. When enabled, Low Bandwidth Mode reduces the amount of network traffic generated by NDI streams by compressing the video data. This compression helps to conserve bandwidth, allowing for smoother transmission and reducing the likelihood of network congestion.
Framing with Fit: Fit will scale the video source to fit within the receiver's display area while maintaining the aspect ratio.
Framing with Fill: Fill will scale the video source to fit the display area ignoring the aspect ratio, which can cause the footage to appear skewed and distorted.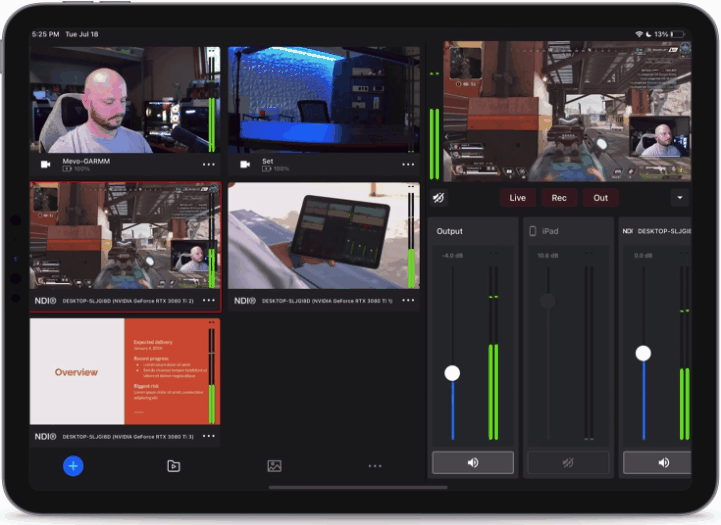 NDI Audio & Video Sync Adjustments
NDI audio and video arriving at different times compared to other network sources can be attributed to various factors that affect network latency. Network congestion, packet loss, and differences in processing speeds among devices can contribute to the misalignment between audio and video streams. To address this issue, adjustments may be required.
To adjust your Audio & Video for an NDI source follow these steps:
Tapped the ellipsis on the tile for the respective NDI source.
Select Audio & Video Delay
Adjust Audio & Video together, or separately by toggling on and off "Link Audio & Video Delay"
The preview of your main source is at the top of the left side of the screen, use this and the previews of the other sources below it to compare and dial in your audio and video with the other sources.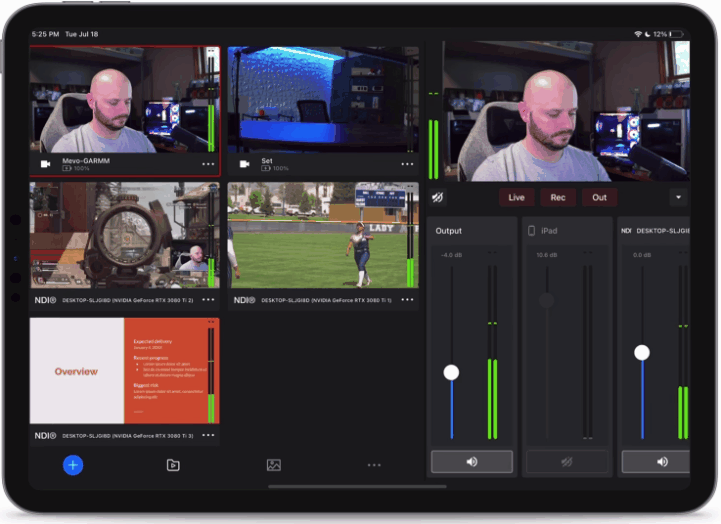 Troubleshooting Steps
Still having an issue?
Please open a support ticket here so a Mevo Customer Experience Agent can address this for you.
Open Ticket